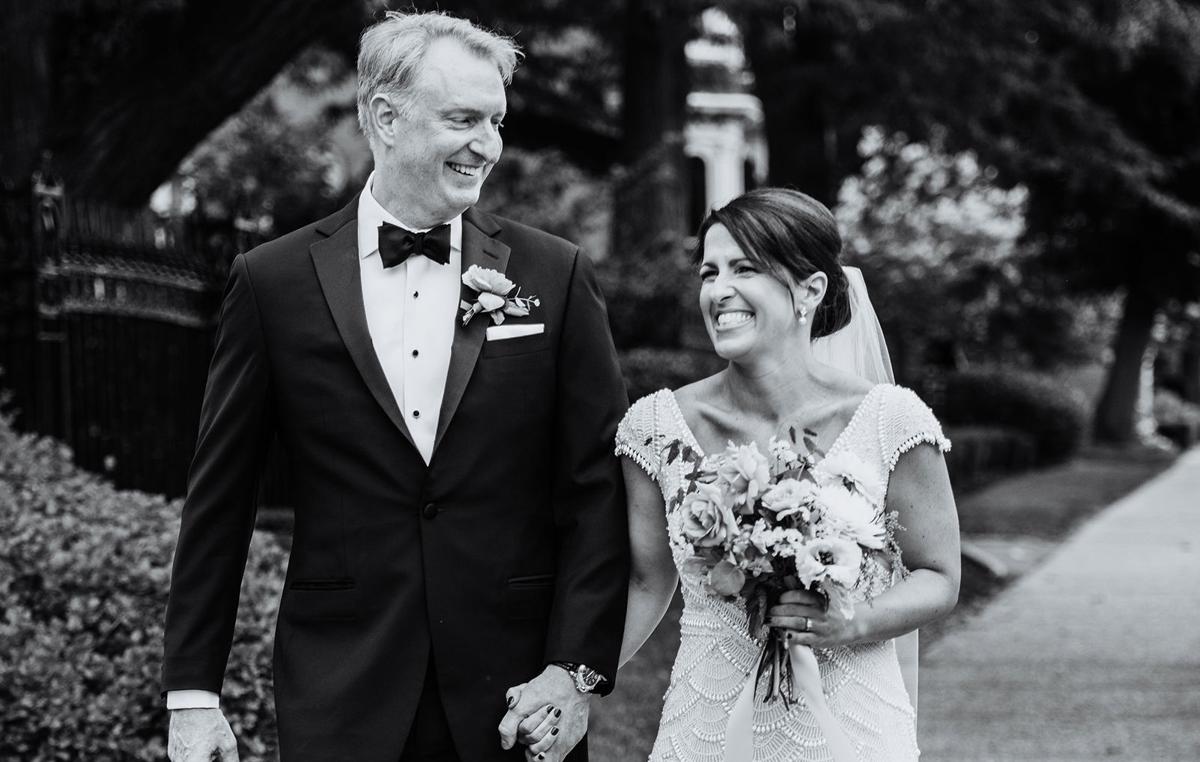 Jane & Pete
Jane Mogavero was looking for the perfect home. She ended up finding a partner instead.
Pete Herman will never forget the day he first saw Jane. It was in the living room of the North Buffalo home they now share. The two were among the 13 people in a bidding war for that house in May 2017—and Pete narrowly edged out Jane for the top bid.
Pete found out he got the house on a Tuesday. Later that same week, he was at a charity event and discovered who the pretty girl was that he'd spotted at the open house.
"This mutual friend of ours learned that I had won the house," Pete said. "She asked to see pictures of it. I showed her pictures and she said,
'My friend Jane bid on that house and I've been meaning to introduce you two.' "
Ironically enough, Carolyn had told Jane about Pete a year earlier feeling they would be a good match, but never actually introduced them.
"So when she circled back a year later and said 'Remember my friend Pete?' I said, 'You know what Carolyn, either introduce me or not.' As a single person, you keep hearing 'Oh I have a friend.' "
Eventually a date was arranged and Jane, by then keenly aware Pete was the guy who aced her out of the house, swore she wouldn't bring up the bidding war.
"I walked in and I think I said 'Oh hi, nice to meet you. I can't believe you bought my house,' " she recalls. "I don't think I got 10 words out."
A few dates later and before she knew it, Jane was helping Pete move in.
Being the ultracompetitive person that she is, Jane jokes the sting of losing out on the bidding war went away after she moved into the house in October 2018.
"When we got engaged, Pete proposed in here because this was the room where he first saw me," she says.
The two married a year later, and now marvel at how fate brought them together. Would they have bonded so quickly, if they'd met a year earlier, without the common thread of destiny bringing them to the same house? At 51, Pete was starting to think that window of meeting someone was quickly closing.
"It makes it that much more special that it's over a moment we get to share," Pete said. "I think I made the joke that up until I met Jane, I was going out buying multiple houses hoping to meet someone."
Jane, 41, firmly believes things happen for a reason, and the fact that they both wanted the same house was a strong sign this was right. But for her, the stronger one was the way Pete bonded with her beloved 13-year-old Australian Shepard, Bode, who passed away in October. Always fiercely protective of her, Jane believes that Bode knew she could go in peace because Jane now had a new protector.
Micah & Drew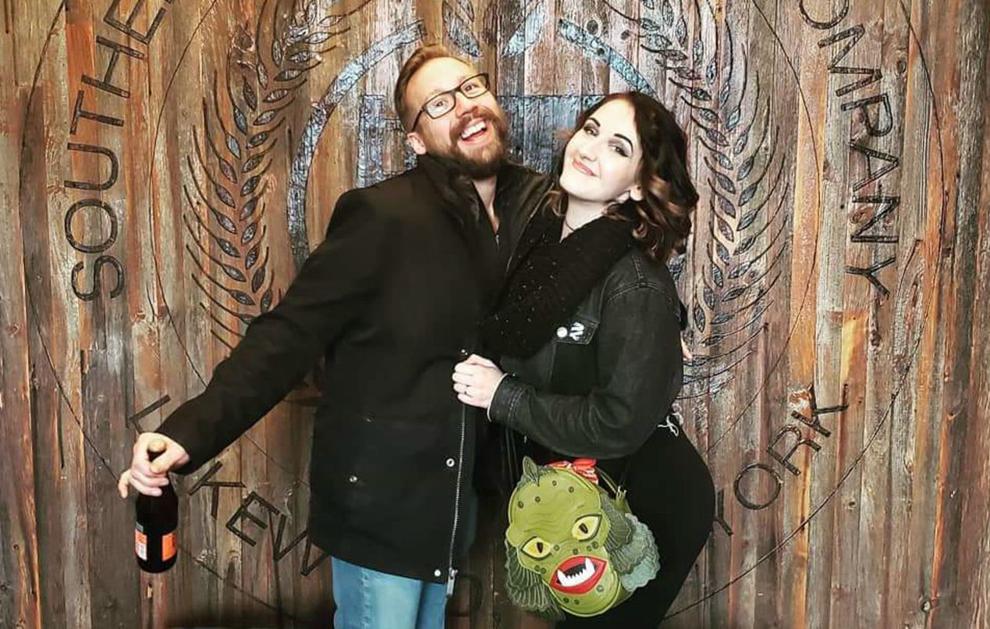 Micah Rose always thought his love of horror movies would help him find the right girl.
"I knew it all along, really," he says. "I knew that one day my useless information of "Psycho 3" and "Fright Night" and "Pumpkin Head" and "Nightmare on Elm Street Part 2" would totally work one day in finding my one, true love."
And sure enough, the 2008 Scare Fair Haunted House in Hamburg brought Micah and Drew together.
"When I saw her, she was covered in blood and white make-up, so I was like, yeah I'm into that!" he joked.
"Not too far off from my normal skin tone, anyway," Drew added wryly.
Drew's first impression of Micah? "I thought he was obnoxious."
By the time the 2009 season rolled around, the two were both single (Drew had a boyfriend when they first met) and a friendship began. They hung out over the next few weeks until one night when Drew gave Micah a ride home—which ended in their first kiss.
Still, it wasn't until 2011 on a walk with their dogs in Delaware Park that it truly began to come together for the duo.
"At the end of walking dogs..." Micah said. And Drew finished, "Micah kissed me."
"Drew kissed me," Micah insisted. "No," she responded with a smile.
"I went in for a hug and she just planted one on my lips and I was like whoaaa."
In the end, their shared love of horror movies did more than bring them together. That passion continues to bond them, as it's not like one has to drag the other to Comic-Con or other events.
"It's really cool that you can have that person that you can do this stuff with," Drew said.
"It's the glue. The sticky, sticky, icky glue that you just puff and get a nice buzz off of, but it also binds us together," he adds. "I can't picture myself with anyone else."
Kelly & John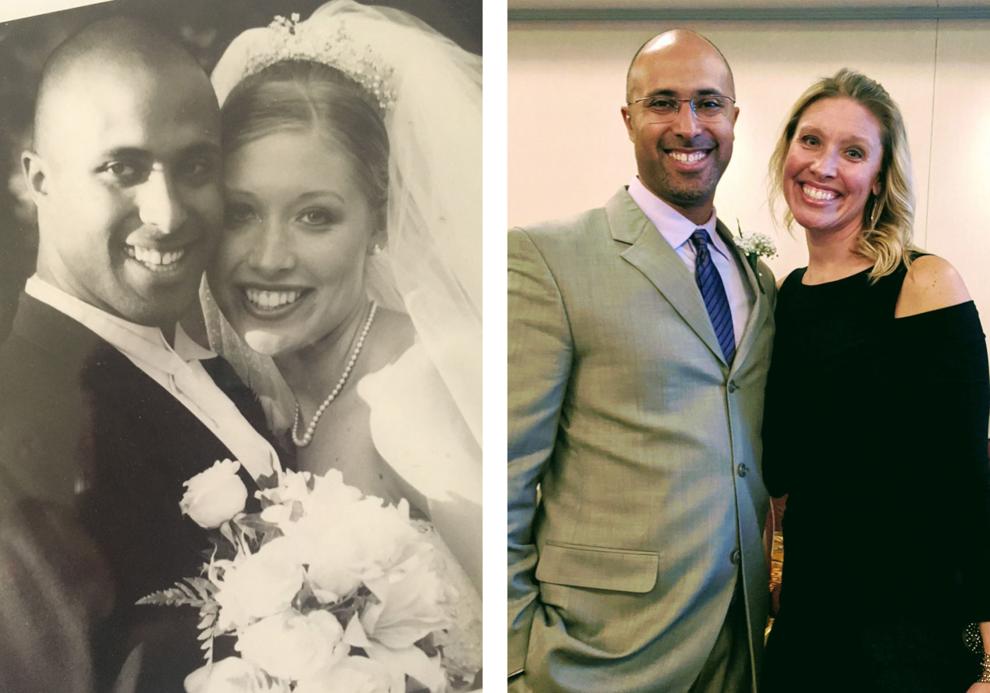 Kelly Strong quips that if she'd gone to the University at Buffalo to major in dance, she might very well be a professional dancer on a cruise ship. Instead, she went to Canisius College—and found the love of her life.
The Strongs have been married since the summer of 2000, but it was a chance meeting in college during the fall of 1995 when their paths first crossed. He was a sophomore, she a freshman.
"He would do work studies at Koessler (Gymnasium) and he was working lines for our volleyball matches," Kelly recalls. "I would sit on the bench, because I didn't play my freshman year hardly ever. So I'd be standing at the end of the bench saying, 'Who's this guy doing lines?' I was asking my friends on the bench. And they said, 'Oh, that's John Strong.' "
Kelly joked that she spent freshman year "checking out his butt." While John confessed he thought "she was cute."
Neither John nor Kelly gave the other a second thought until the following spring when a mutual friend introduced them during a night out.
They instantly clicked. Now, almost 25 years later with two sons (Jackson, 16, and Caden, 14), Kelly and John still believe fate and destiny worked hand-in-hand to bring them together at just the right time. From Kelly almost choosing UB for dance over Canisius for volleyball to
John almost going back home to Toronto after a rough freshman year where he dislocated his shoulder playing football and dealt with a major bout of homesickness.
"We all feign belief in control," John said. "When ultimately there's certain things that happen that you go, 'Oh I didn't know that was going to happen.' I think other people make choices and say, 'Oh that was totally on purpose,' but I wouldn't go as far as to do that."
"I was kind of going back between UB and Canisius," Kelly said. "Now that our son is getting older, he's starting to look at colleges. And it's funny because I said to John the other day his whole life is going to take a certain direction depending on what school he chooses. It's a big deal. But at the time I was in that moment, I guess really didn't think it was that huge of a decision. Now looking back on it and choosing Canisius and choosing to play volleyball shaped my life in this direction and honestly, my life could not be any better right now."