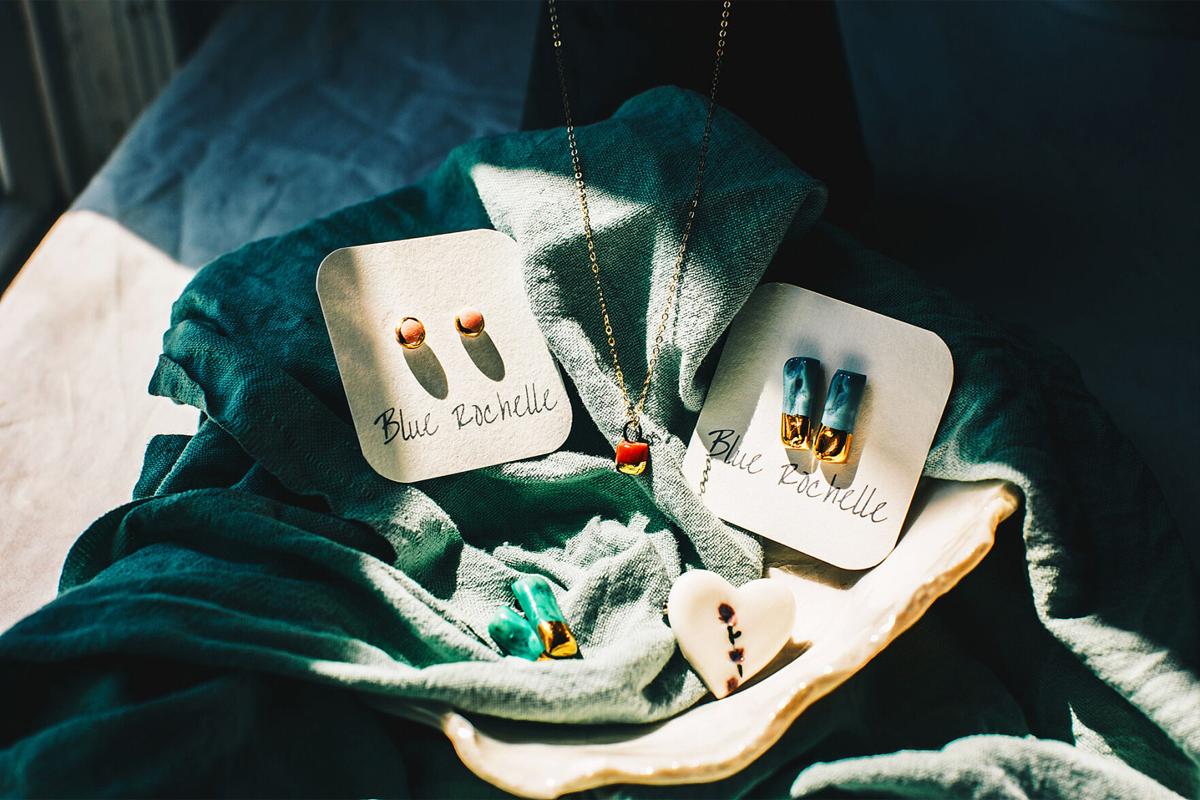 She's a business owner, jewelry maker and full-time assurance engineer, yet the inspiration behind Blue Rochelle is perhaps Natisha Mosier's most significant role of them all: mom.
"Blue" comes from her son's favorite color. "Rochelle" is a manifestation of Natisha's own identity—her middle name. Natisha founded Blue Rochelle in 2018 to create pieces the everyday woman can wear, well, every day.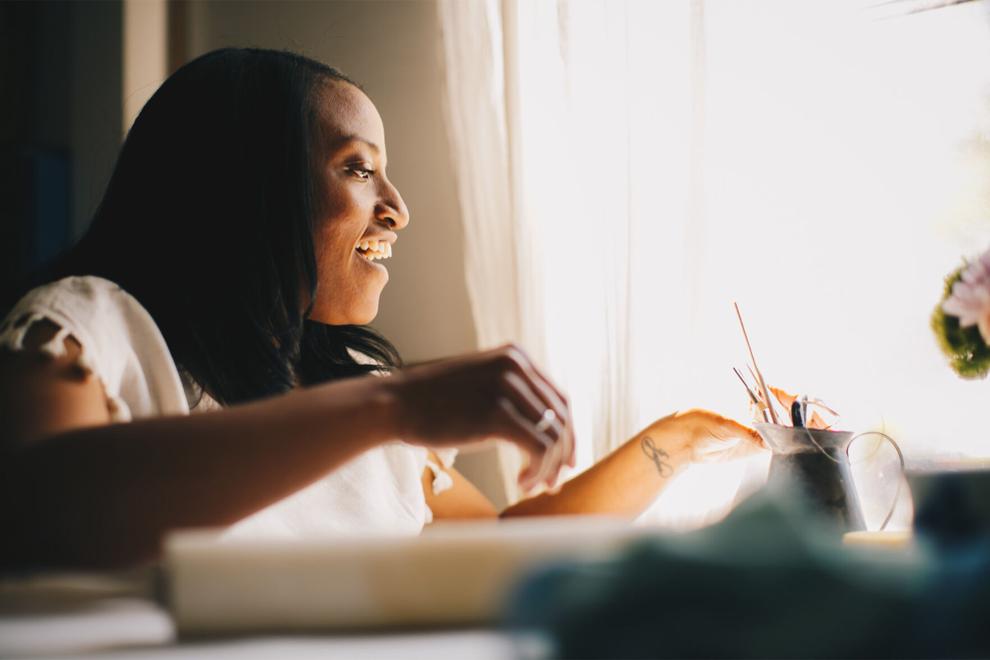 "I think special occasions are amazing, but especially these days, they're few and far between," Natisha says. "I wanted to create jewelry I could wear to the office, go grocery shopping in, wear when I bring my son to school."
Her vessel of choice: porcelain. "Once it's fired in the kiln, it's durable and it takes on the color of its glaze," she says. "And I was told by a teacher that it's better than stoneware for smaller, dainty pieces."
Natisha, a working mother in the fullest sense of the term, dedicates her evenings either making jewelry or updating the website. "Eventually, I want to do this full-time," she says. But right now, it's "a creative outlet."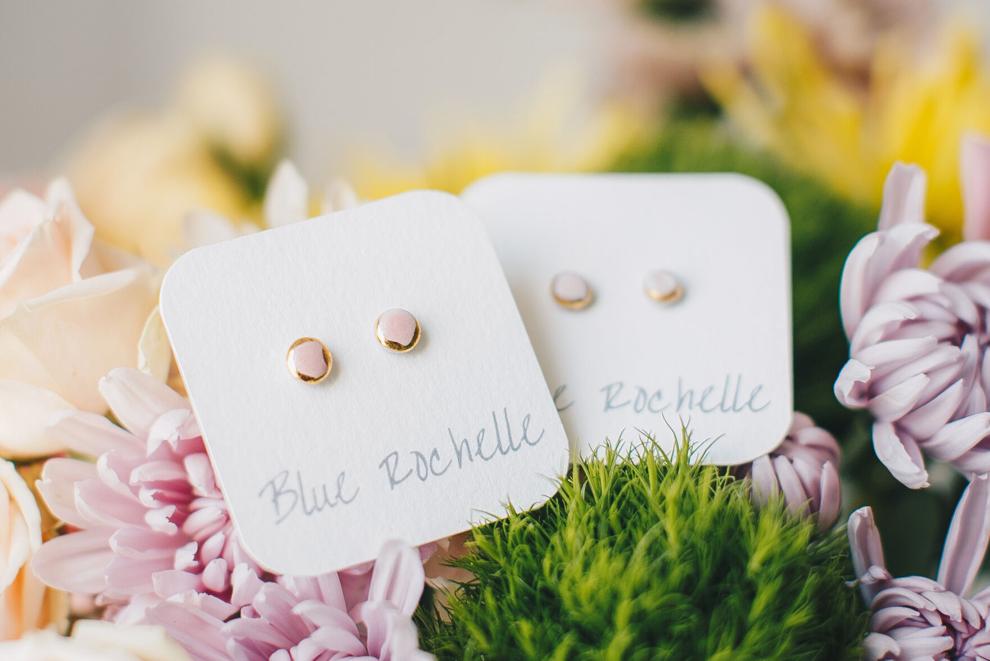 Her handiwork got its start at a Saturday ceramics class she took with her son at Locust Street Art.
But in some ways, Blue Rochelle got its start in Natisha's grandfather's garden. She grew up with her grandparents and her father in Dunkirk. And into adulthood, it's been her grandfather's life that has had the most striking impact.
"My grandpa was always in his garden. Every Saturday morning, he got up, cut his grass, cut the neighbor's grass," she remembers. "Now, I have my own son, my own house and my grandfather has since passed away. I never realized until I got older—it's just a part of me."
Not only did the garden influence her process, but it many cases nature is also part of the process. "I'll take a slab of porcelain and trace something, a flower or twig I find," Natisha says. "Then I bake it in the kiln and glaze it."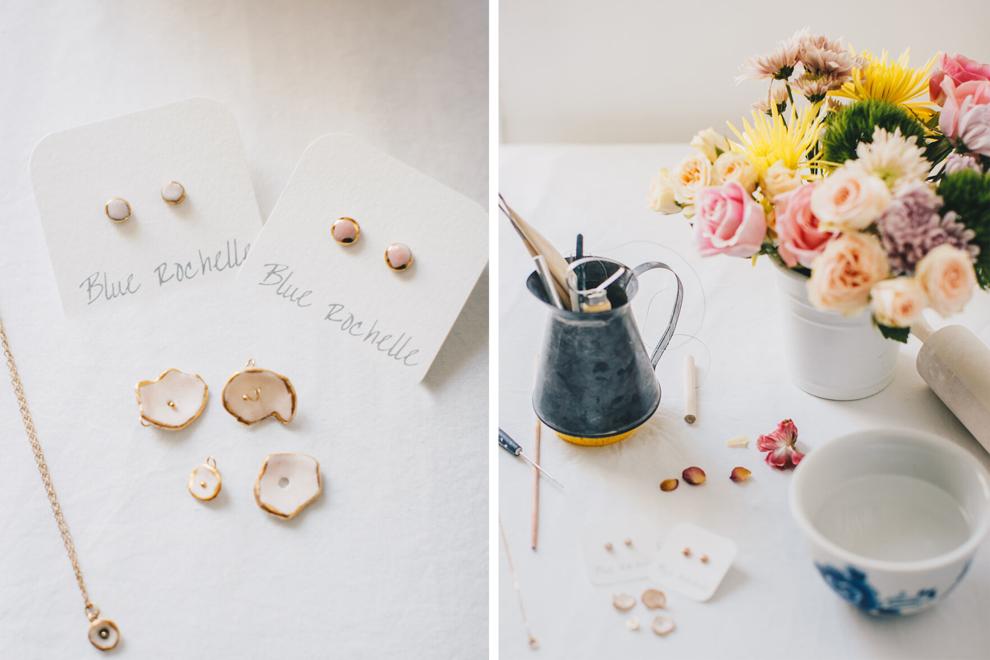 For some, the real challenge would be cultivating a brand with such a successful digital presence, yet one that remains in touch with nature. It's a balancing act.
"My grandpa, he didn't have a cell phone or a computer," Natisha says. "He was so content to sit in his swing and watch us play in the yard. Remembering him helps me center myself."
Natisha rised to the challenge of being a conscious consumer as well as a conscious creator. She cites the Bangladesh garment factory collapse in 2013 as a global event that had quite the impact on her.
"My background is in apparel design and product development, and Rana Plaza opened my eyes to how much waste the apparel and accessory industries produce," she says.
Blue Rochelle's wares do not not create any harmful chemicals or toxins, and Natisha brings in recycled materials when she can, using them as packaging to reduce waste.
"Blue Rochelle, it's part of me, part of my son and my experience with motherhood, my grandpa and his flowers," Natisha says. "I just hope I can have a beautiful garden someday."